Good news to the UC fans out there, UC Browser 10 app has been rolled out for the devices running on android by the UC team. Update to this version is now available and its added towards the end.
UC Browser 10 features
The big one that's packed in the latest version is the new and improved user interface like redesigned navigation page and availability of the browser settings, night mode, addons, history, bookmarks, downloads, themes etc from the right side within the screen of the browser.
Pictures of the new design changes that you can see from UC Browser 10.5.1.581

Dynamic Tabs Management : Intuitive and dynamic gesture control helps you to manage the tabs easily.
Now you can play videos in both the resolution that is high and low quality as you wish
Note : Every new tab is placed below the previous one and if you are having too many windows opened it's difficult to go to the first one as you have to scroll all the way up to use it.
You may also like : VLC Media Player Android App
UC widget can be enabled from the addons and can be pinned to the home screen for a quick access to various features such as home, Facebook, search, download and settings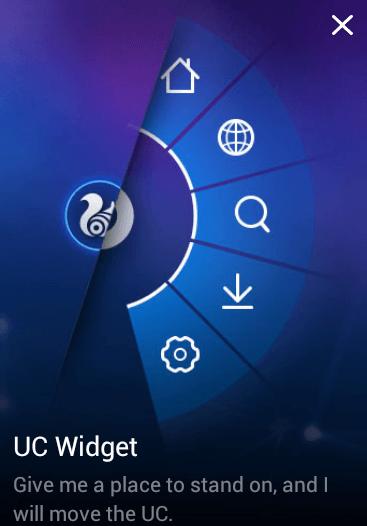 The app also lets you to get the opened tabs and bookmarks on other devices by enabling cloud tabs and by setting up the sync with your account
Resource usage on our low-end android device with 512 MB of Ram and 1 GHz processor
After opening two pages, this what we saw in the ram usage
The UC Browser 10 apk package can be downloaded by going to wap.ucweb.com or by visiting the website from desktop and by selecting the android version.
Version : 10.5.1.581
Apk size : 16.27MB
Get your favorite social media website access, Facebook right from the notification bar at the top
You can even do the search from the notification bar in addition to the Facebook feature
Overall quick startup ie 10% faster than the old builds
Better and improved image uploading to Facebook social networking website
Funny Doodles of little squirrels can be added when you share
Transparent background can be used for a web page if you don't like the default looks of that website
Bookmarks can be imported from other browsers
ICC Cricket World Cup 2015
For all those cricket fans out there now you can see real time cricket notification on your mobile but its availability is limited to Indian, Bengal, Pakistan, South Africa and The United Arab Emirates. To enable it proceed like Menu>Notification>Settings.
Better match for the keywords that you put in search bar
New feedback centre
Speed of image uploading to Facebook is now even faster
Download
For apk click below or visit official website from mobile or desktop to grab the installation file.
Features of previous build for fans
Build 10.1.5
An updated version 10.0.2.523 has been rolled out with the following
Improved buffering with which you can watch videos smooth
New my video manager to get quick access to video files whether its online or offline